Latest Trends of Women's Bottom Wears
The term Bottom Wear has become a fashion phenomenon of sorts in recent times. One item, multiple looks! Try different types of bottom wears for different types of tops, and you just get surprised how many different styles come out from a single top.
You can make a style statement just by wearing fashionable top or kurti, however don't forget to pair your tops and kurti with right bottom. Right pair enhances the look of whole outfit. You can transform yourself and modernize your look with bottoms like culottes, Bell Bottom Pants, cigarette pants, palazzo, long skirts, etc. Checkout here western and ethnic bottom wears.
Culottes
Culottes are tricky, especially with the length. Falling somewhere between a boot cut and a full-on flare. Flared culottes have stormed the fashion scene big time! Be it plain, printed or crinkled, they look fabulous and stylish with short and mid-length kurtis. Giving the impression of a divided skirt, they are extremely comfortable.
Bell Bottom Pants
Bell bottoms are back in the game and going to excite you with the variety of design and can be paired with all sorts of tops, shirts and kurtis. Whether we admit it or not, but bell bottoms do have a unique decent outlook, bringing out the real smartness out of you. The latest series of bell bottom crafted are full of decent alluring embellishments, bordered tussles, floral side print, side embedded motifs, silky shine and laced with net work.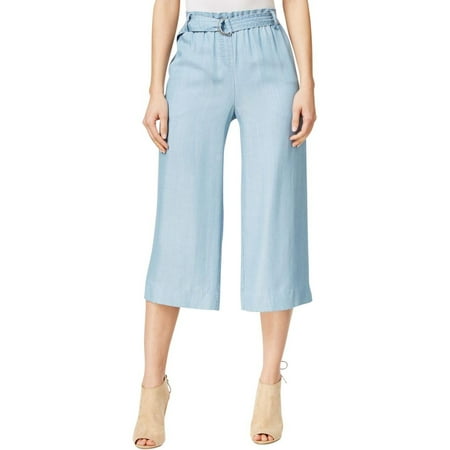 Cigarette Pants or Straight Pants
Pants instantly give you a formal yet stylish look. Pants in silk, cotton, polyester or linen are some of the most commonly seen pants that women can team up with formal or casual kurtas  and tops. They come in many options, printed, embellished, or just plain solids.  Whatever be the style, they look very chic and clean when teamed up with straight kurtis, or even  a long and flowy one. Even a short and shirt style one will look good with straight pants. Cigarette pants just finish up at the ankle. It is fashionable and at the same time comfortable & lightweight so you can wear it around the clock.
Tulip Pants
Tulip pants are usually combination of light and elegant shades. The adorable, pretty and versatile features of tulip pants are making then sell like hot cupcakes. One can go for embroidered tulip pants or can choose beads or pearls for the pant to pair it with top dresses. Nobody can deny wearing the trendy tulip pants for both formal and informal use. Only the appearance of the attire is sufficient to come along one with the opinion of wearing this elegant pant. Try the best style of Tulip pants for yourself.
Palazzo
 The palazzo pants refer to the kind of trousers with rather loose and wide legs. Palazzo pants are definitely the way to do long pants in summer; your whole outfit will look chic, yet breezy and comfy. Teaming them up with long straight kurtas or playing around with short shirts, crop tops and so much more, it's the Palazzo pants that are finding their way into every woman's wardrobe this season. These are not only ridiculously comfortable but also stylish. Don an elegant sling bag and matching accessories to perfect the look. Wear a pair of incredible flats or gladiators to make the look your own.
Jeggings
Jeans are tough and non stretchable while leggings are stretchable but very revealing, so why not try combination of the two? Any women can wear jeggings but it should be of right fit. No hassle of the zip or button, just pull on to the waist. You can select from wide range of bright colors and pastel shades with standard denim wash effects.  It is a happy fusion of something between jeans and Leggings. To sum up, it looks like a jeans but gives the comfort of a leggings.
Long Skirts
They have been trending on the runways forever! You can team them up with straight cut kurtis to tops, and try n number of styling options to look dressy in the skirt. A crushed fabric stole will complement the look further. Depending upon the design and fabric, the look can be customized for a daily wear or for an occasion wear.
Dhoti Pants
Try out stylish dhoti pants to stand out in the crowd. It has several pleats around the thigh area. These pleats are loose at the upper leg area and taper down to the ankle. Dhoti pants are extremely voguish and comfortable as a bottom wear especially during summers. Unlike Pyjamas or other fitted bottoms, which are heavy, dhoti pants are light enough to let the skin breathe and combat heat. Amazingly, these dhoti pants have breached international borders and landed on the fashion ramps abroad. They look stunning and intricate but are supremely comfortable for the wearer.
Skinny Jeans
Skinny jeans are hot favorite among young girls. Pair it with T-shirts, top, kurti for style. A perfect fit skinny jeans hold a special place in every woman's wardrobe. The ease and comfort assured by this garment is unique and unseen. A suave yet classy look is what you can nail through a sleek and slouchy jeans pair.
Flared slit ends skirt
A flared slit skirt is all that you want to flaunt and style and comfort with same ease. For ladies with long legs, you don't want to miss out on this opportunity in showcasing them in panache. This outfit is meant for all those women who have a natural inclination for skirt and don't mind sporting any and every kind of them. Anything that gives you uber style and confidence is where your style lies. This long skirt is apt for summers. Team them up with cool and summery flip flops and your all good to hit the road.